Medical record retrieval is not an insignificant cost when settling personal injury litigation. The good news is that T-Scan's HITECH Directive Program successfully mitigates costs associated with medical record retrieval.
By working closely with personal injury attorney firms throughout the United States, T-Scan's HD Program ensures the patient's right to access their own electronically stored information from providers who must follow pricing protocols set forth in the HITECH act.
The HITECH Act mandates that if the provider stores records electronically and the patient requests those records through a HITECH Directive Letter , the patient may be charged only $6.50 per record (or actual labor cost involved in providing an electronic copy). The HITECH rate is a significant savings over state regulated medical records costs which can be as high as $1.50 per page.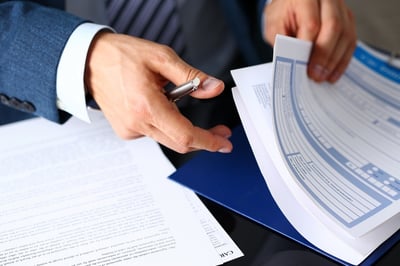 How Do Personal Injury Firms Save Money on Medical Record Retrieval Through T-Scan HD?
Since July 1st, 2015, T-Scan has lead the retrieval industry with our HITECH Medical Record Retrieval®, T-Scan HD Program, by identifying those providers over-billing clients. T-Scan drafts, builds and gathers a signed HITECH Directive Letter, drastically lowering medical records costs for personal injury firms
Our HITECH Directive Letter and HITECH Medical Record Retrieval Program requires medical providers to send Electronic Health Records directly to our facility at a much lower cost than standard state mandated fees. Through the T-Scan HD Program, our clients have seen savings of 90-95% per record.
T-Scan regularly delivers over 5,000 records sets a month to some clients. The average "per page" provider invoice is $88, while he average provider invoice under the HITECH Act guidelines is $6.50. The savings on just 1000 records for these clients is roughly $100,000.
HITECH Directive Letter
When gathering authorization signatures from the patient or patient attorney, T-Scan gathers a separate HITECH Directive Letter signature. The HITECH Directive Letter is a separate, unique, document addressed directly to a facility from the claimant. The HITECH Directive Letter instructs the facility to provide Electronic Health Records directly to T-Scan at a "reasonable fee" as defined within the HITECH Act.
Our extensive experience in the industry allowed our team to recognize the need and create a process to make medical records affordable. T-Scan developed our HITECH Medical Record Retrieval process as a cost saving benefit to our clients, and is the only retrieval company currently utilizing this unique cost-saving measure to reduce pass-through provider fees.
The T-Scan HD process saves personal injury attorneys not only provider fee costs during case evaluation but also labor and technology cost. T-Scan assumes transparent responsibility in researching, contacting, and follow-up with the provider. T-Scan also assumes accounting responsibility, ensuring the provider is charging the correct fee structure (or less) when releasing records.
During litigated cases or claims in process, personal injury firms work with T-Scan HD to ensure their client, firm, and attorney receive complimentary copies of medical records released through the T-Scan HITECH Directive Program. In other words, our service, secure document repository, and copies of records processed to your specifications (including optical character recognition, bates numbering and organization) are no charge, free to the personal injury firm.
Patient Protection
When you have a client sign a HITECH Directive Letter or HIPAA authorization releasing information to a retrieval company, do you know if the retrieval company profits from the data contained in that record?
Shouldn't you?
Many companies treat record retrieval as a means to the end – analytics.
These retrieval companies use the information from records collected to stack the deck in future cases, using retrieval to gather large amounts of data and create a predicative analytic model to sell to large corporate clients.
T-Scan does not retrieve millions of records to research, analyze, and create an aggregate of data and metadata for evaluating future cases handled by specific firms in specific jurisdictions.
T-Scan does not create analytics on the protected information your firm and client entrust us to gather.
T-Scan does retrieve the information, protect the information, and pass records to only those individuals with authorized access.
When personal injury firms and their clients choose T-Scan, they know we are providing a protected retrieval service. T-Scan retrieves records and provides records to those individuals who need access to evaluate the merits of the claim – nothing more, nothing less.
A Retrieval Company That Saves You Money
Our mission is to retrieve and distribute records as efficiently and cost effectively as possible. We provide a solution that will save you over 75% on HITECH medical record retrievals.
The cost savings are clear. The protection is clear. It's not just retrieval, it's T-Scan HD.