It turns out a record retrieval service can do more than help you retrieve the records your client's need. A record retrieval company that is worth its salt can provide value to your operations in ways that aren't immediately apparent.
There are three significant ways in which a legal operation can benefit from a reliable record retrieval company.
Add A Knowledge and Office Expert
In the same way that attorneys, paralegals, legal assistants, and claims adjusters have areas of expertise, so does a successful record retrieval company. State and federal laws have a significant impact on the best practices used to retrieve records, and a successful record retrieval partner should have dedicated resources to provide and recommend best practices to retrieve information at the lowest possible cost in the shortest amount of time.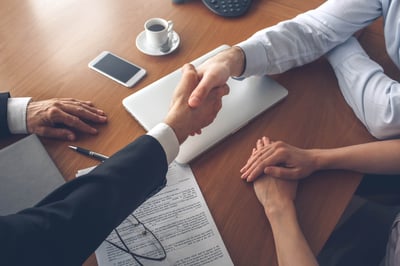 At T-Scan, each customer is provided a dedicated Account Specialist to provide information and propose best practices to successfully retrieve records. At the end of the day, it's the client's decision regarding how to proceed, however, our aim is to save clients thousands of dollars in retrieval costs while significantly reducing the amount of time it takes to gather information.
When a law firm is hired by their client, the client expects to be able to ask questions and receive reliable information about their case. The same expectation should apply to your record retrieval vendor.
T-Scan account specialists will be able to make recommendations about the validity of authorizations, check to make sure record costs are accurate, provide information about subpoena law in various jurisdictions, etc. And – maybe most importantly – if an immediate answer is not present they have the skills and resources to figure it out.
Consider your account specialist a resource that is part of your office, rather than someone sitting at a far away desk who you hope can do their job.
Finance: Manage Time, Billing, Cash-Flow
Law firms are under constant pressure to keep hourly rates low and minimize billable hours, therefore every second counts. Unfortunately, tasks associated with record retrieval are either treated as un-billable administrative expenses or are difficult and cumbersome to track.
How long does it take for an attorney, paralegal, or legal assistant to draft, authorize, and ensure that the provider/custodian information is accurate?
How many calls/emails does it take either to the provider or to their record retrieval vendor to information related to their requests?
Once the records are delivered how much time is spent organizing and storing them?
How much time does it take the accounting team to pay allocate costs and collect funds from the client?
The answers to the above set of questions are all critical to evaluating a successful record retrieval operation.
Here at T-Scan we take a great amount of pride in minimizing the number of times our clients "touch" each request. For example, our support teams will draft all the necessary release of information paperwork, including subpoenas, and collect signature from the necessary individuals. Additionally, each request is researched and cross referenced against our custodian database to ensure that the most accurate contact information is used to complete each request.
HITECH Medical Record Retrieval prior status reports are provided on-demand and optionally at a daily, weekly or monthly schedule so that our clients do not have to inquire about the status of their orders. Records are available in the 24/7/365 repository in a searchable format and organized and stored at no additional cost for at least one year from the time of delivery.
One important, but often overlooked, aspect of record retrieval is the invoicing process and its impact on the operations of the organization being served. Claims departments, legal departments, panel counsel and plaintiff firms have unique best practices that allow for smooth operations and facilitate efficient finances.
At the same time record retrieval can be highly transactional and account for a significant portion of the claim/case budget. In addition to reducing record spend by 70% through HITECH Medical Record Retrieval™, T-Scan has provided a number of options that allows adjusters and litigators to track spend, as well a number of invoicing formats and options that allow accounting departments to efficiently process invoices.
Outside defense counsels should consider if they would like invoices on a per record bases or delivered in a bulk or statement format. The best record retrieval companies can direct bill carriers. This practice not only saves litigators time but also can improve a firm's cash flow. Plaintiff firms can improve their finances by eliminating valuable administrative spent on retrieving records but also can delay paying for the records they need for 45-60 days.
Risk Reduction: Brand & Data Security
Claims and legal organizations that utilize a third-party to collect records containing personal sensitive information (PII) need to acknowledge that the risks associated with that partnership could affect their overall business. Selecting a partner with the right technology, a formal information security policy & risk assessment program can boost the security profile of many practices.
Third-Party Risk Factors for Litigators
Most small and mid-sized firms either do not have a vendor compliance management system, or if so, it has very limited resources. Thus, understanding the types of risks that a record retrieval company could carry is critical in maintaining a strong security posture, avoiding fines and penalties, and safeguarding your reputation.
Operational Risk: Firms that subcontract with third-parties typically do so because they frequently rely on records to perform their service and count on the partners capacity and knowledge to fulfill this business need. Small record retrieval companies often do a great job at providing a boutique feel but what happens if their processes/technology fail or something happens to key member of their team. Many large vendors often solid processes but take a "cookie-cutter" approach that often results in many customer touch points or failed requests, which can defeat the purpose of engagement with a partner in the first place.
Financial Risk: If one of your operations or your record retrieval company was breached, how would your organization be financially impacted? Would it put your case or caseload at risk? How would the cost of remediation or an investigation impact your firm?
If performing record retrieval internally, your organization should consider the technology platform used to disseminate and store information. The best record retrieval companies are constantly evaluating this risk and have breach identification and remediation plans in place to combat this growing threat.
Reputational Risk: As a provider of professional services, your name and that of your firm's is likely your largest asset. If your internal processes or your supplier fails to deliver the critical information, how does that impact the quality of your work? If there is a breach and you do not have the proper breach identification and compliance practices in place, how does that impact your reputation in the industry? Selecting the right partner with the right processes should reduce your exposure and shield your brand from many of these threats.
Compliance Risk: Regulatory compliance efforts are at an all-time high and organizations are requiring partners to demonstrate compliance more frequently. When implementing a record retrieval partner, they should fit easily into any existing or forming compliance management program. They should have experience working with various compliance departments and attestation standards.
Learn More
If you would like more information about T-Scan's Data Security and Compliance Architecture download the ebook below.